I just love a new journal, don't you? Even though Blueline Notebooks are my perfect life partner that I've been using for about 15 years, I still use a variety of journals for specific purposes. For example, brainstorming posts for this website or working through new business ideas.
There are so many digital tools now, available for every device. But I'm still a paper girl at heart.
I discovered the Behance Action Journal a few years back and fell in love with its simple layout and beautiful design. I've filled two of them and just bought my third.
They are fabulous for archiving because they are high quality and easy to navigate with spots for Reference tags in the top right corner of each page.
Also, these notebooks are made from 100% sustainable materials which is pretty awesome.
A few things I love about the Behance Action Journal:

1. Clean, functional design
The journal contains no extra sections or useless pages – for example, a place to terrifyingly write down all your passwords (*cough* Moleskine *cough*). The pages are so well designed and laid out that they literally make me want to fill them.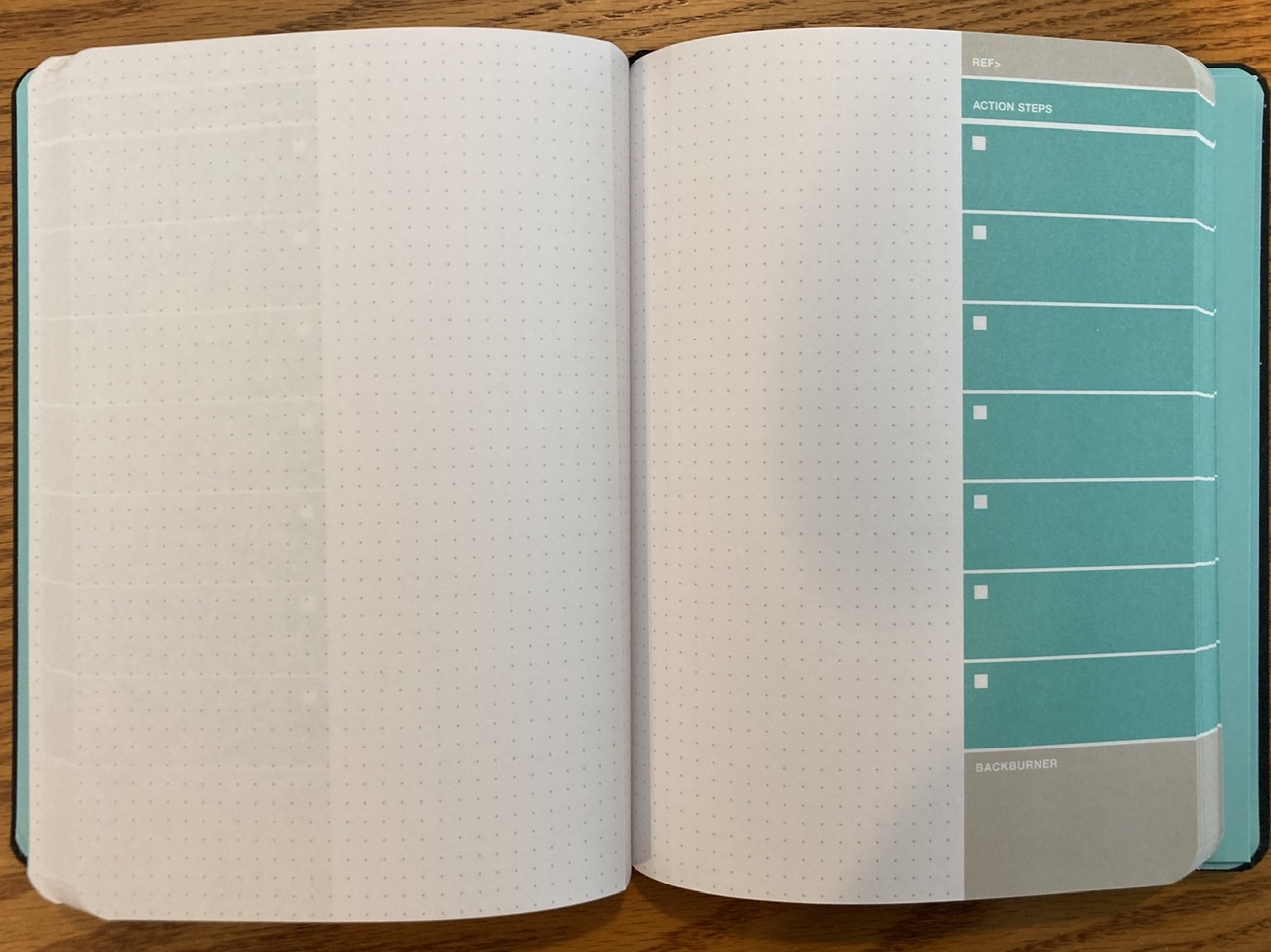 The left page is a full area for writing, marked with a grid of light dots. The dots are a great feature if you want to keep your lines straight, but they can also be easily ignored if you want to go freeform or draw.
The right page is divided into two areas: a writing area and a column containing a Reference field to help find the page later, seven color-highlighted Action Steps with check boxes, and a Backburner section to drop in your ideas that aren't ready for action yet.
The notebooks are available in three different highlight colors: turquoise, green and orange. All three are delectable!
2. High quality binding and paper
The hardcover and binding are indestructible and a sturdy matte black – very classy and easy to take to the cafe for writing or to a business meeting for note taking. The paper is thick and toothy. The notebook has 100 pages and is filled with 60lb. opaque bright while vellum paper.
The pages are also scored so you can easily tear them out if you desire, and the scoring is well done so the pages don't loosen on their own.
3. Flexibility
Because the journal has minimal – but smart – formatting. it provides a flexible template to use every day and craft for any task at hand. Brainstorming, rough drafts, to do lists, even calendaring all work well in this journal.
I'v heard the Action Journal can also be used for Bullet Journaling, which I have not tried myself but will cover in a future blog post, so stay tuned!
4. Size
I absolutely love the size of this journal, and it's what drew me to it in the beginning when I saw it on the shelf. (That and the irresistable turquoise detailing!) It's 15 x 20 cm, which works out to about 6 x 8″. It's small, but wide.
I find the downfall of smaller journals are they also get narrower, making them difficult to stretch out in. I'm also not a fan of hyphenation so having a page wide enough to fit full sentences is a plus in my book. (See what I did there?)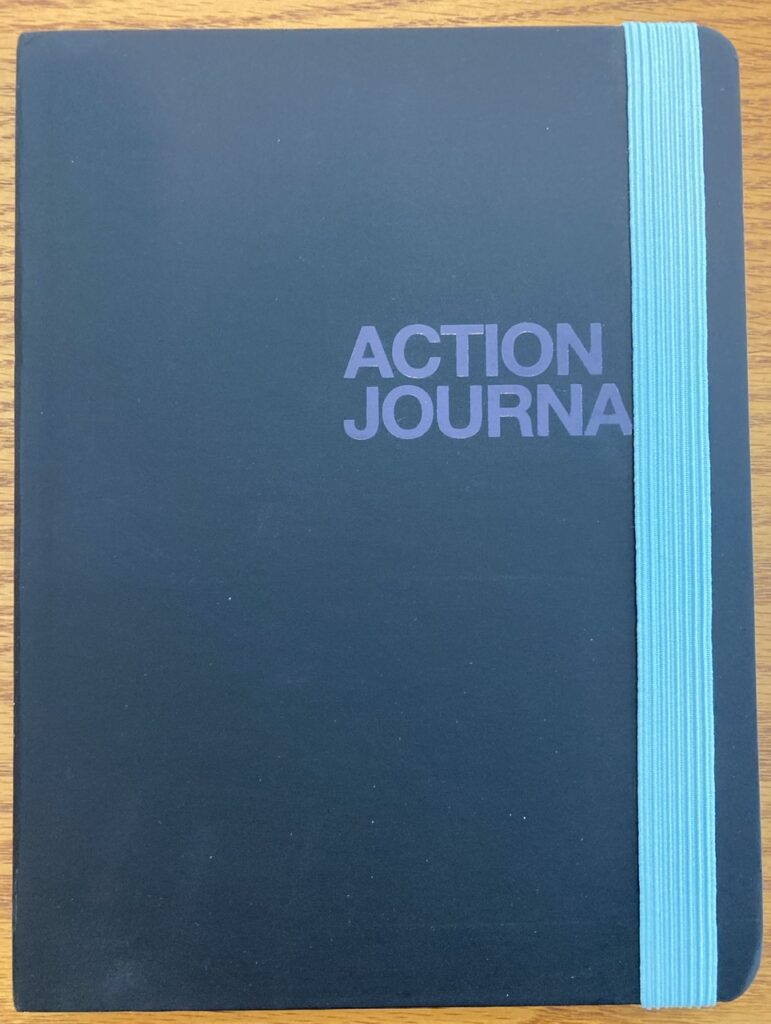 5. Essential features
There are four features I always look for in a journal and rarely find all together in one notebook. This journal has three of them:
Elastic closure – to hold everything in place and protect the pages
Ribbon placeholder – to easily find your blank pages to get an idea down quickly
Storage pocket/folder – to keep essential papers and other items handy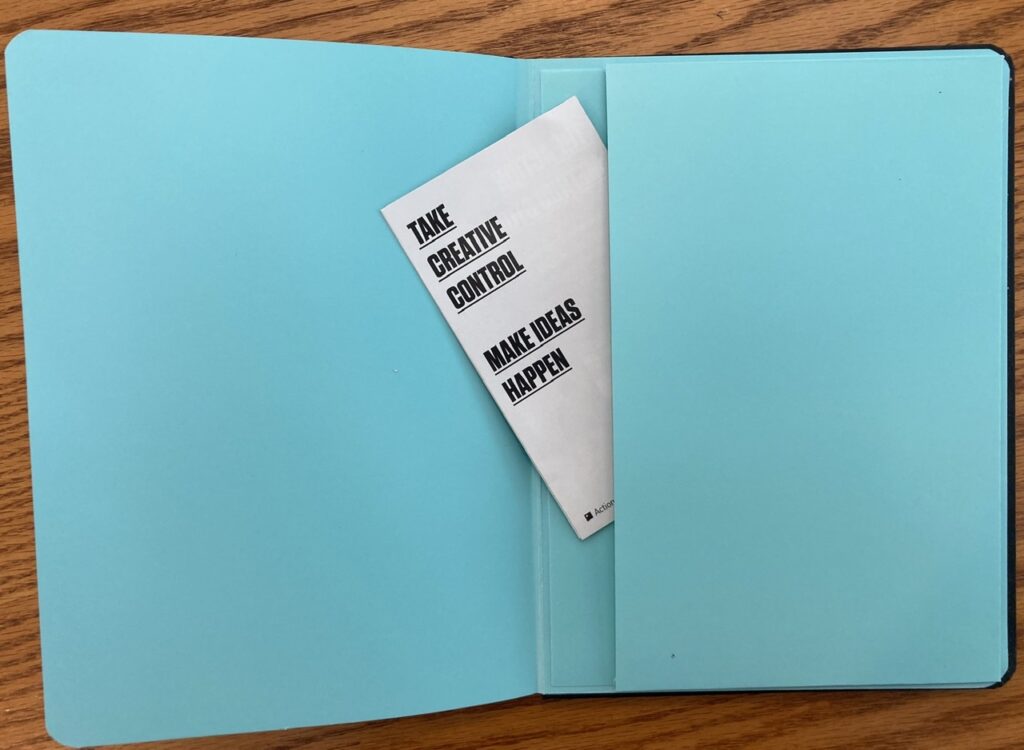 I also look for a pen loop, which this one does not come with. But I discovered you can get adhesive pen loops cheaply on Amazon and add them to any journal or planner you want. They work great and I've also been using them in my Blueline Notebooks. You can get them in standard black or a multicolor pack (which of course I couldn't resist).
I clearly love the Behance Action Journal and I highly recommend them. If you give them a go, let me know what you think in the comments below!

Hi friends: I use affiliate links on my website, which means if you buy a product using my link, I receive a small percentage of the purchase price. This allows me to keep the site running so I can continue to provide you with quality content! Thanks for helping keep Journaling Saves alive. ♥