Welcome to the site. I'm so glad you made it.
So you're interested in journaling. Well, you've come to the right place! Whether you're a newbie or a veteran, this site has everything you need for guidance and inspiration.
Allow me to give you the grand tour.
Who am I, anyway?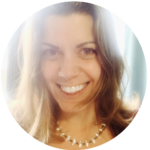 First, let me introduce myself.
My name is Kristin and journal writing saved my life.
I'm a writer by trade and I've been journaling daily for more than three decades. I created this site so everyone can enjoy the benefits of this amazing practice.
I divide my time between my Treehouse in coastal Connecticut and New York. When I'm not journaling, I like to read social psychology books, play with my tortie-point Siamese cat Starlee, and ride my Vespa in the sun. If you're curious, you can read more about the site, my mission and me.
Always feel free to drop me a line and say hi or ask a question. I read all the emails I get, and I do my best to get back to you even if it takes a bit.
Let's start journaling!
Let's get you started with your new journaling life.
My guide How to Journal in 10 Simple Steps is the perfect way to get started. This section of the site is a friendly introduction to the nuts and bolts of keeping a journal. The guide includes a step-by-step process for creating your own journal practice. It will also direct you to other helpful posts on the site for further exploration.
The Core Journaling posts will help you get squared away on the basics and form the foundation of your journaling practice.
Also, lost of folks find the Journaling Prompts category a great way to get started. There's a lot to discover here so don't get overwhelmed. Just find a post that catches your eye and check it out.
Already journaling regularly? Keep up the stellar work.
Perhaps it's time to try something new.
If a creativity boost is what you need, head over to the Inspired Journals category, which includes posts on art journaling, visual journaling and other topics to get the juices flowing. This is a great section for getting your hands dirty. In a good way.
Last but not least, there's a collection of reader favorites gathered together in The Best of Journaling Saves.
Questions? Drop me a line and I'll see if I can help.
Thanks so much for stopping by. I hope to see you around the site again soon!