Welcome to the site. I'm so glad you made it!
So you're interested in journaling. Well, you've come to the right place. Whether you're a newbie or a veteran, this site has everything you need for guidance and inspiration.
Allow me to give you the grand tour.
"I only write when I'm inspired, and I see to it that I'm inspired by 9 AM every morning."
~ Peter DeVries
Do you know why you get out of bed in the morning?
I do. I want to put pen to paper daily and create high quality content to help you do the same. I want to show you how to leverage your own brilliance in building the life and relationships you've always wanted, and the creativity you deserve.
Journaling Saves was born more than a decade ago, on January 1, 2008. Since then, the site has grown in scope and depth, with more original articles, eBooks, podcasts, videos, workshops, and newsletters. I create everything you encounter on this site unless expressly credited otherwise. During this growth, the site's mission has never wavered.
My goal is still to guide you in enriching your journaling practice or beginning a new one.
I believe journaling is one of the most powerful tools in existence for personal development and creative growth. It has changed my life – and at times, saved it. I want you to harness that power to affect change in your own life.
Because although we've just met, I already like you. In fact, I think you're pretty fabulous.
Journaling my way is remarkably eye-opening. I'll guide you through the process using straightforward lessons, actionable tips, and stimulating writing prompts – illustrated by my own personal experience.
What Can Journaling Do For You?
create a deeply satsifying and colorful life
connect with your true identity
improve your relationships
gain more energy and focus
eliminate bad habits
boost your creativity and dissolve writer's block
Still curious whether journaling is for you? Check out Why Journal? for more details on the benefits you can gain through a regular journaling practice.
You don't have to consider yourself "creative" in order to grow tremendously through journaling. (Though I believe if you can make a sandwich you are, by definition, creative.) A daily practice is magical in its ability to shed light on your life, develop your insight, and connect you with your dreams.
Believe it or not,
you DO have enough time
you ARE creative enough
you're NOT doing it wrong!
Visit the Frequently Asked Questions page for answers to your essential journaling questions.
Who am I, anyway?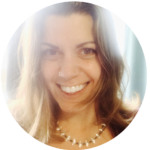 My name is Kristin and journal writing saved my life.
I've been journaling daily for more than three decades. I created this site so everyone can enjoy the benefits of this amazing practice.
I divide my time between New York and my Treehouse in coastal Connecticut. When I'm not journaling, I like to read social psychology books, play with my cat Starlee, and ride my Vespa in the sun. If you're curious, you can learn more about me.
Always feel free to drop me a line and say hi or ask a question. I read all the emails I get, and I do my best to get back to you even if it takes a bit.
Let's start journaling!
Let's get you started with your new journaling life.
My guide How to Journal in 10 Simple Steps is the perfect way to get started. This section of the site is a friendly introduction to the nuts and bolts of keeping a journal. The guide includes a step-by-step process for creating your own journal practice. It will also direct you to other helpful posts on the site for further exploration.
The Core Journaling posts will help you get squared away on the basics and form the foundation of your journaling practice.
Also, lots of folks find Journaling Prompts a great way to get started. There's a lot to discover here so don't get overwhelmed. Just find a post that catches your eye and check it out.
Questions? Drop me a line and I'll see if I can help.
Thanks so much for stopping by. I hope to see you around the site again soon!